Artica supports 4 version branches, the long term support version, the current version, the nightly versions and the non stable versions
The long-term version is currently 4.30.000000 Service Pack 208.
The 4.30 LTS version was released on 2020 June
The Service Pack 206 was released on on 2021 May
The Service Pack 208 was released on 2022 November
This current version can be put into production.
It receives updates via officials Service Packs and patches automatically until it becomes a long term version.
Currently, it is the 4.30x but this last one has passed in long term mode and it should be the 4.50 version in the future.
This version has been consolidated for 2 years.
It is still maintained and updated via Service Packs.
It has been frozen since 2021 May Wednesday and now has very precise updates via Service Packs and HotFix.
An HotFix is applied manually because it responds to very precise needs and patches.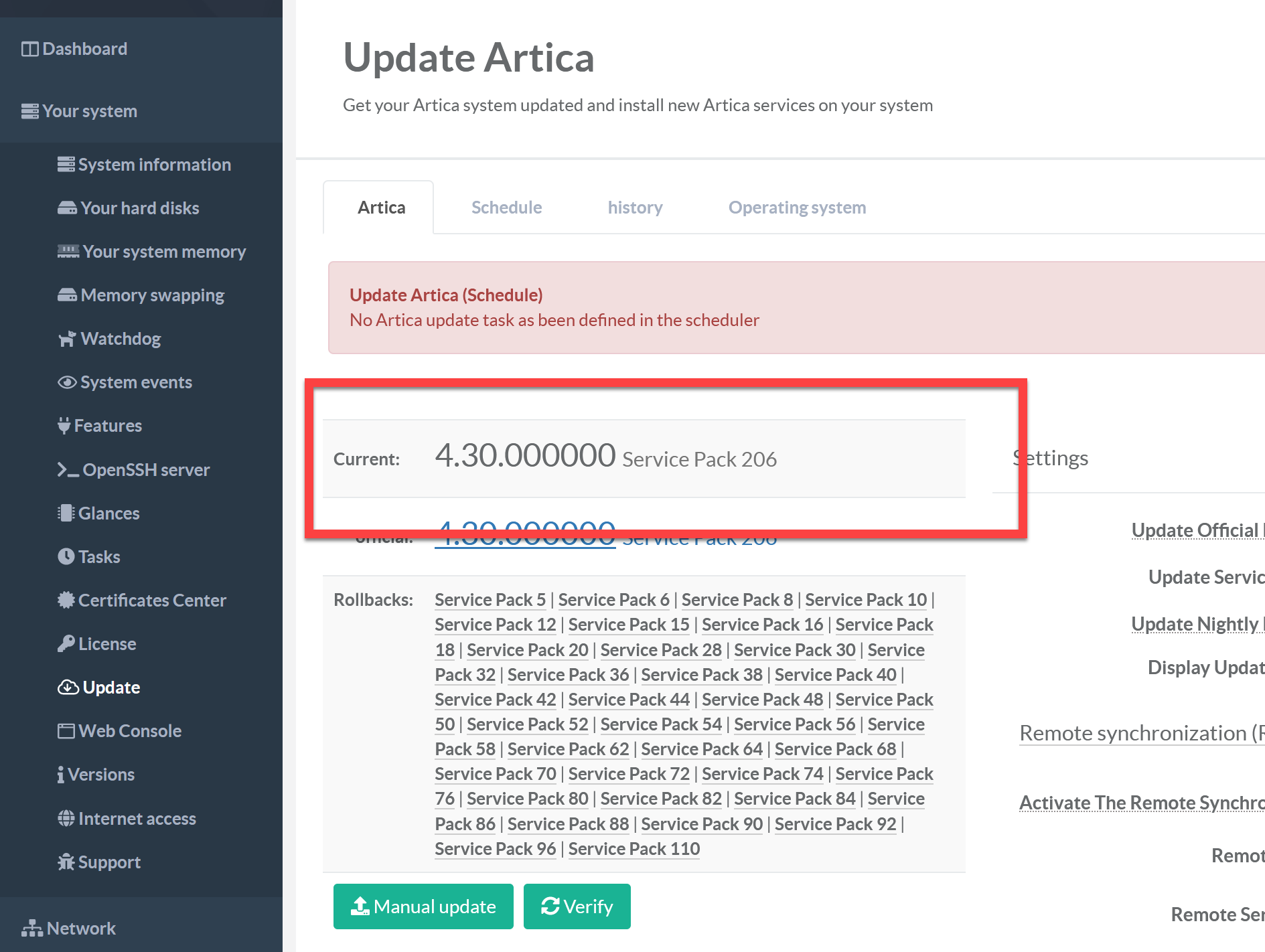 ¶ Nightly / Release Candidate version v4.40
The nightly version is a preproduction version.
The 4.40 version prepares the next LTS 4.50 version, it was released on 2022 Nov.
ISOS and virtual machines are available.
This version is in active development and has automatic updates of service packs.
If you want to test the new features, you can use this version.
However, be aware that it is update intensive.
It is a matter of manually updating the current version with a dedicated package.
The Unstable Service packs prepare the next official version.
These Unstable Service Packs offer big fixes and features planned for the next 4.50 release
The next Long-Term Support version will be the 4.50.
This version will only confirm the stability of the current nightly 4.40.
When this version will be released, it will activate the death of v4.40 and the born of a 4.50 new generation

The nightly version is very experimental versions intended for beta releases or new technologies, generally they have a version system with an odd number.
However, they can be stopped and it is not possible to go back to a previous version through automatic updates.
In this case, you have to load the official base version and redo the updates.
Currently, the nightly version is 4.31.000000. It has been discontinued and is no longer available.